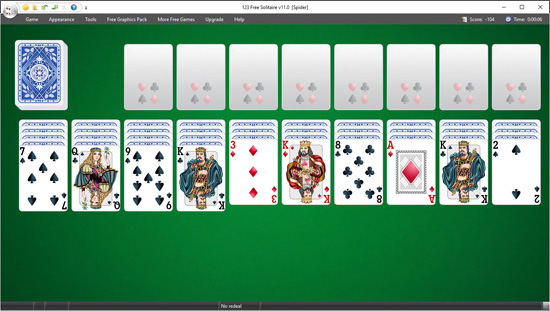 Number of decks:
2

Playing time per game:
From 5 to 10 minutes.
Requires skill or chance:
High skill required.

Odds of winning:
Sometimes.
Aim of the game
Build the cards on the layout into eight sets of thirteen cards each. The sets must be built down in suit from King to Ace.
Initial setup
Deal 52 cards into ten piles.
The first four piles should have six cards each and the other six piles should have five cards each.
The cards must be overlapping and facedown, except for the card on the top of each pile, which must be placed face up.
The other 52 cards will form the stock.
How to play
The top card of each column is always available for play to another column.
Once you move a card, the card below can be turned face up.
If you have a sequence of cards that are built down in suit, they can be moved as a unit to another column.
If a gap is created in the layout, it can be filled with any card or sequence of cards as long as they are built down in suit.
Kings can be moved only to a gap in the layout.
When there are no more possible moves, take ten cards from the stockpile and deal one on top of each column.
When a finished sequence of thirteen cards is built, from King to Ace and in suit sequence, it can be taken from the layout and placed on a waste pile above the layout.