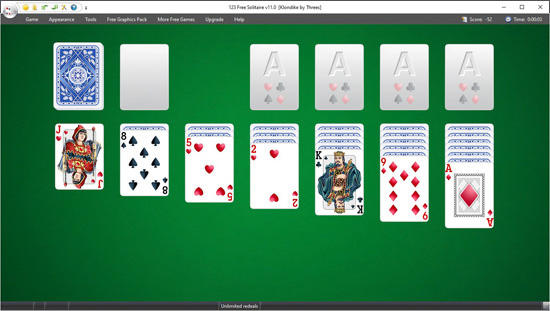 Number of decks:
1

Playing time per game:
5 to 10 minutes.
Requires skill or chance:
Mostly chance.

Odds of winning:
Sometimes.
Aim of the game
Build all the cards on the foundations, in ascending rank sequence, from the Aces up to the Kings.
Initial setup
Deal seven base columns with overlapping cards to start the game.
The first column should have one card, the second column two and so on, with the seventh column having seven cards.
The top card of each column will be placed face-up.
How to play
Foundations start with available Aces, which are built in ascending rank by suit.
The card on the top of each foundation or column is available for play.
It can be played on a foundation, in ascending rank by suit, or it can be played to the other columns in descending rank and alternating colors.
Groups of cards may be moved among the different columns.
The cards from the stock are dealt to the waste pile three cards at a time, and these cards are available for play either to the columns or to the foundations.
If you create a space among the base columns, it may be filled with a King or a King-sequence.
Once the stock is exhausted, the waste pile may be picked up, shuffled and dealt as many times as necessary.