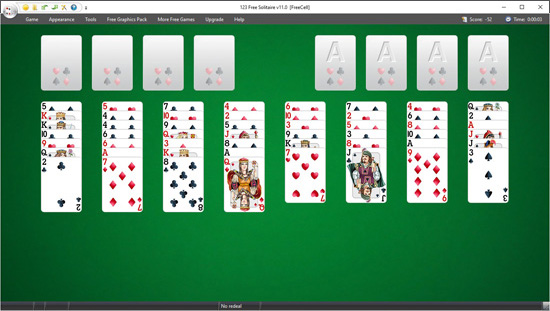 Number of decks:
1

Playing time per game:
From 5 to 10 minutes.
Requires skill or chance:
High skill required.

Odds of winning:
Usually.
Aim of the game
Build the four foundations up in suit from Ace to King.
Initial setup
Deal all 52 cards from the stock into eight columns.
The first four columns will contain seven overlapping cards.
The last four columns will have six overlapping cards.
Above the layout, to the right, you will build the four foundations.
To the left will be four empty "FreeCells".
How to play
The top card of each column is available for play.
These cards can be moved either to the foundations, to one of the "FreeCells" or to another column, where you can build down in alternating colors.
FreeCells are used as temporary storehouses.
You can place any card on the FreeCells, and these cards can always be moved to either the layout or the foundations.
If there is a gap created in the tableau, you can fill it with any single card from the layout or with any sequence of cards, as long as there are enough FreeCells where the cards could be moved individually.
There is no redeal.